The online poker and casino gambling revenue report for February 2015 has been released by the New Jersey Division of Gaming Enforcement. While it's clear that internet poker is on an alarming decline compared to last year's results, it's also worth noting that, despite the cash game traffic results, the Party Borgata poker network is still the leader in New Jersey.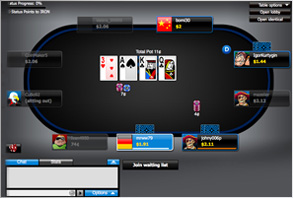 When WSOP.com and 888Poker teamed up in January by pooling a portion of their player bases across certain cash games and tournaments, it appeared that the newly formed WSOP / 888 network was primed to take over the top spot in New Jersey's online poker market.
According to current statistics from traffic tracking website PokerScout, WSOP/888 is averaging 200 players at the cash tables over a 7 day period, while the Party Borgata poker network is averaging only 150. That information would lead many to believe that WSOP / 888 would easily overtake the market as the #1 gross revenue generator in the Garden State. But the latest revenue reports indicate otherwise.
The NJ DGE's revenue report shows that PartyPoker and Borgata Poker (collectively the Party Borgata Network) reaped $1,103,501 from interactive peer-to-peer gaming (i.e. online poker rake and tournaments fees). Caesars Interactive Entertainment, which operates as the license holder for WSOP.com and 888Poker, generated $942,154.
Together, New Jersey's online poker market produced $2,045,655, with Party Borgata owning 53.94% of the market share. WSOP / 888 made up for the remaining 46.06%. In terms of cash game traffic, though, the numbers look quite different, with WSOP / 888 leading at 57.14% of the market share, and the Party Borgata poker network trailing with 42.86%.
How Party Borgata Poker Network retains #1 Rank
There are only two reasons why Party Borgata would remain on top, despite having lower cash game traffic than its sole network rival in New Jersey. The most likely cause would be a stronger interest from the online poker community in Party Borgata's tournament schedule.
The network has a larger selection of well-structured tournaments that offer higher guaranteed prize pools than WSOP / 888, and the majority of them are networked across both PartyPoker and Borgata Poker. WSOP and 888 only chose to network a small number of their largest weekly guarantees, which are still collectively lower than those presented by Party Borgata. The highest Sunday GTD at WSOP / 888 generally fluctuates between $25k and $35k, while Party Borgata offers a minimum Sunday $50k GTD, often increased to $100k GTD.
The only other factor that could cause such a seemingly opposing result in New Jersey's online poker leadership is the value of the players taking part at the cash tables. If PartyPoker and Borgata Poker are drawing more high volume, high stakes players than WSOP / 888, it would reason that the network would collect more from cash game rake than their competitor, despite having the lower traffic numbers.
Revenue Reports Good & Bad News for New Jersey
When comparing February's online poker revenue to January 2015, the numbers don't look good at first. Jan 2015 brought in $2,299,426 ($1,283,746 or 55.83% from Party Borgata, $1,015,680 or 44.17% from WSOP / 888). In Feb 2015, the total was down 11% to $2,045,655.
However, if we negate the fact that February had 3 less days than January, calculating the daily average instead, the results look more like this: $74,175 per day in January, $73,059 per day in February. That equates to a mere 1.5% differential, and should be a lot easier for New Jersey regulators to swallow.
Where the largest discrepancy lies is the comparison between February 2015 and February 2014. Last year at this time, the Garden State's online poker revenue totaled $3,109,203. Overall, the internet poker market has seen a disturbing decline of 28.3% in year-over-year results.
On a positive note, online casino revenue in New Jersey is still running strong, accounting for approximately 4x more than online poker. When both online poker and casino revenues are combined, the DGE reported a total internet gaming win of $10.4 million in February 2015, up 0.9% from $10.3 million in February 2014.