New Jersey reports another increase in Online Poker Revenue for January 2015
New Jersey's online gambling market has been active for 15 months now, and after consistent reports of sluggish growth, it seems the industry's revenue generation is finally staying on a northbound track. For the second month in a row, the interactive gaming win is up, including a substantial boost in online poker revenue.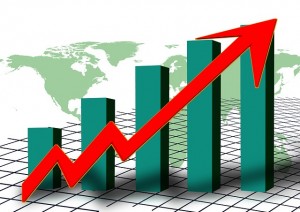 For the month of January 2015, the New Jersey Division of Gaming Enforcement (DGE) reported a total internet gaming win of $11,567,337. That figure translates to an 8% increase, up from $10,736,118 in December's report. Of that, $9,267,911 came from the state's online casino operators, while the other $2,299,426 was derived from peer-to-peer gaming (i.e. online poker operations).
Clearly, casino style gambling is more popular – and more profitable – than online poker games, but this month's unwritten award for rate of growth goes to the latter. Internet casino win rose 6.38%, while online poker revenue grew 10.45% month over month.
Party Borgata Network leads in Online Poker Revenue
There are currently four online poker operators pilfering their virtual wares in New Jersey – Party Poker NJ, Borgata Poker, 888Poker and WSOP NJ. Party Poker and Borgata Poker are licensed to the Borgata Atlantic City, sharing their player bases on the aptly named Party Borgata Network. 888Poker and WSOP.com, although both licensed under Caesars Interactive and using the same 888-branded software, didn't not begin sharing their player bases until last month.
With that in mind, only Borgata (Party/Borgata Poker) and Caesars (WSOP/888 Poker) are reporting online poker revenue. In that regard, Party Borgata still maintains a solid lead, representing $1,283,746 (55.83%) of the total peer-to-peer yield for January. WSOP/888 are slowly catching up though with a total of $1,015,680 on the month (up from $949,432 in December 2014).
WSOP NJ / 888Poker lead New Jersey in Cash Game Traffic
In terms of cash game traffic, however, WSOP.com and 888Poker are now cornering the New Jersey market. After partially combining their player bases in mid-January, the Caesar-licensed operators finally edged out the Party Borgata Network as the most popular poker site in New Jersey. According to PokerScout, Party Borgata currently averages 150 cash game players, while WSOP/888 have climbed to 220 players on a 7-day average.
Helping to keep Party Borgata on top in the online poker revenue counts was last month's second running of the Garden State Super Series (GSSS II). The online poker series ran from January 11th through the 25th of the month, drawing in a plethora of players to participate in the 69-event, $1 million guaranteed series.
Remarkably, WSOP.com and 888Poker held no events of that caliber last month, yet still managed to see a small increase in online poker revenue. As such, it will be interesting to see just how well Party Poker NJ and Borgata Poker perform in February compared to WSOP and 888Poker when no major online poker events are on the table.
The biggest guaranteed events for New Jersey online poker players in February are the Sunday Majors. Again, Party Borgata has the better offering with a $100k GTD at 5:00pm every Sunday, but WSOP and 888 are working their way up, having increased the Big Sunday from $35k to $50k for last weekend's Feb 15th rendition. Whether the prize will remain the same this coming Sunday is yet to be seen.