Poker Pro Daniel Negreanu sets New Goal to Score NHL Team in Las Vegas
What do you get the person who has it all? How about something that doesn't actually exist—at least not yet? That's where professional poker player Daniel Negreanu has set his sights these days. After making a fortune on the felt, the Canadian poker pro wants to buy a share of the Las Vegas NHL hockey franchise from Bill Foley.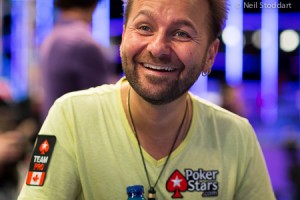 Ironically, Las Vegas does not have an NHL team, but the billionaire/millionaire team of Foley and Negreanu is aiming to change that. Bill has been on a mission to bring professional hockey to Sin City for some time now, heading up the organization Hockey Vision Las Vegas, which launched its own website late last year.
Last month, the NHL announced that it had received applications for expansions teams from 16 groups/individuals, but that it was seriously considering only two of them; "one from Bill Foley for a franchise in Las Vegas, Nevada, and one from Quebecor for a franchise in Quebec City, Quebec."
Negreanu says the odds of Las Vegas being awarded an NHL hockey team are extremely high. "I just don't see it not happening," he said in an interview with Toronto Sun's Mike Strobel. "We have a solid owner, an arena (nearing completion on the Strip with 17,500 seats for hockey) and we sold 13,000 season tickets," said Daniel.
"Vegas has 2.2 million people. It's a sports town," he continued. "We've been starving for a professional franchise of any kind for many years."
The highest winning tournament poker player in the world with over $30 million in cashes (plus 6 WSOP bracelets and 2 WPT titles), Negreanu made his fortune by correctly gauging the odds, and he puts the odds of Vegas receiving an NHL team at "99.9%"
What name does Daniel foresee the new team embracing? The Las Vegas Rat Pack, as in Frank Sinatra, Sammy Davis Jr., Dean Martin, and the rest of the crew. Of course, that's only his vision. The usual naming contest would be held.
Daniel pledged to be at every game cheering on the team, and said he might even launch his own hockey talk show. But for now, "the focus is on getting the team".
Does Las Vegas have a Slap-Shot at an NHL Hockey Team?
When the NHL began accepting applications for expansion teams, there were specific guidelines set forth. In order to even be considered, the applicant must be capable of substantial ownership, which Las Vegas has in billionaire insurance tycoon Bill Foley. An adequate arena must available, or at least plausible, which Sin City already has in The Las Vegas Arena.
Lastly, there must be an interested audience, and Foley has already obtained that as well. As Daniel pointed out, Foley's campaign to harvest hockey fans was a huge success, having already secured over 13,200 season ticket holders, including 11,500 deposits, 1,000 commercial commitments and 735 suite seats.
If Las Vegas is granted an NHL hockey team, it would be at least two years before the franchise was up and running. Foley previously aimed to have the team dropping the puck by the 2016-17 season, but now says that goal simply isn't feasible. "It's got to be 17-18 right now."