PokerStars Pro Tour to Promote California iPoker Ends in Success
PokerStars Pros have been on a mission over the last few weeks to raise awareness among poker players in California. The campaign, called Californians for Responsible iPoker, involved major stars of the felt like Daniel Negreanu, Vanessa Selbst and Jason Somerville, visiting land-based card rooms throughout the state. The tour may be over, but its promoters believe the effects will linger indefinitely.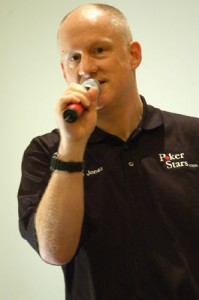 The PokerStars Pro Tour finished up with a final stop at Turlock Poker Room & Casino, where Negreanu and Selbst were joined by the online poker giant's Head of Poker Communications, Lee Jones. His commitment to the cause has been unrelenting as Jones rode the tour bus along each of the 11 stops, taking a "do whatever needs to be done" stance.
According to Jones, as well as PokerNews, who was in attendance for the last four legs of the tour, the response from the community has been overwhelming. As the PokerStars branded RV rolled up at each stop, poker fans were lined up out the doors to meet the pros, get autographs and discuss their desire to see online poker regulated in California.
When asked what Jones believed was the biggest takeaway from the tour, he had a difficult time pinning down just one. Overall, though, Jones said, "the biggest takeaway is a renewed love of the game and its community."
He said that so often, the limelight is focused on high-stakes games, big tournaments and grinders, but that there's an immense population of players necessarily who don't fall into any of those categories. "These people just love poker," said Jones.
Everyone who turned out for the final leg in Turlock, CA seemed to agree on one point. Online poker is something they want and deserve to have the right to play. Jones was exceptionally pleased to see how devoted these fans were to the regulation of internet poker, many asking Negreanu and Selbst how they could help to achieve that goal.
"These people love poker not because they think they're going to win or lose a million dollars, but just because they're having a great time playing the game. They love going down to the poker club, seeing their friends, drinking a beer, and seeing what the cards bring," said Jones.
"In many ways, seeing Daniel and Vanessa and being on the road with them, seeing the people swarm around them, again, they were all just totally unabashed fanboys and it just felt really good to see that," Jones continued. "The smiles, the energy, the happiness of everybody — that's the big takeaway I have. Plus, they all wanted to help. We forget sometimes that poker is supposed to be fun, and it's just been fun at every single one of the 11 stops."
Jones looked on as the mass of poker-loving attendees were all signing up for Californians for Responsible iPoker. He only hopes that their dedication to the cause will carry on well beyond the tour's end. He said, "we all hope that they will follow through when we send them an email that asks, 'Hey, will you fire an email off to your assemblyman?'"
Jones said he knows that PokerStars will continue to push heavily for regulated iPoker in California, although he was unable to share any specific details at the time. Continued propagation is "absolutely crucial," said Jones. "If you start something and you don't keep up the momentum, then it just dies."