Live poker rooms are still a major attractant for card gamers these days, despite what the statistics might appear to show. After watching dozens of poker venues close across Las Vegas and Atlantic City in the last few years, skeptics are wondering if the 'poker boom' is truly over. But it seems the reality of the situation can be chalked up to the old cliché, 'out with the old, in with the new'.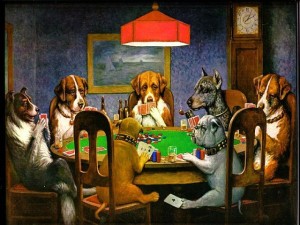 The cannibalization of live poker rooms was a huge concern among those who opposed the legalization and regulation of online poker throughout US states, particularly in Nevada and New Jersey, where land-based gambling dollars make up a significant portion of the states' revenue. Both states launched online poker markets in 2013, and both have seen a remarkable number of their live poker rooms close since then.
Five poker venues disappeared from Atlantic City in 2014 alone. The first to go was The Atlantic Club (January 13, 2014), followed by the Showboat Casino (August 31, 2014), Revel Atlantic City (September 2, 2014) and Trump Plaza (September 16, 2014). The Trump Taj Mahal just recently closed its live poker room, but the casino remains open, and they say there are plans to reopen the poker tables this summer. Whether that will actually happen remains to be seen.
Spinning the globe 2,500 miles to the west in Las Vegas, we find the same data reflected. At least 16 live poker rooms have ceased services in recent years, starting with the card rooms at Tropicana and Ellis Island in September of 2012, and ending with the most recent closure at Hooters just this month.
Charles Darwin once said, "It is not the strongest or the most intelligent who will survive but those who can best manage change." That statement can be easily applied to the evolution of poker. It is not a lack of interest from players that is reducing the number of live poker rooms throughout the US, but rather a modernization of the game and the way players enjoy it.
New and Renovated Live Poker Rooms
There's evidence to that theory in the vision of casino development experts and marketers throughout the country. While the dated card rooms mentioned above were shuttering their doors and windows, new—and thus far immensely popular—live poker rooms were opening at places like the Seminole Hard Rock Casino in Florida, Maryland LIVE! Casino in Maryland, and the Parx Casino in Pennsylvania. Another is set to open soon at Philadelphia's Sugarhouse Casino.
Some other live poker rooms are renovating their establishment's to keep up with the changing tides. Caesars Entertainment has two of its live poker rooms with exclusive WSOP.com branding at Caesars Palace in Las Vegas, and Harrah's Atlantic City. The company is clearly looking to promote its online poker presence in both of those states.
What it all boils down to is superior advertising, availability and tournament scheduling; giving players what they desire in today's advanced market. The poker boom of the early 2000's is not over, it's just evolved. Live poker rooms must enhance their services to keep up, or get out of the way.