The Equity Poker Network got off to an impressive start when it first launched in Q4 2013, garnering the interest of several well-known iGaming operators like 5dimes, SportBet and PokerHost. However, traffic has dropped noticeably in the last few months. Now, one of its premier online poker sites, Full Flush Poker, is helping to keep numbers up by reintroducing a highly acclaimed promotion known as the No Fee SNG.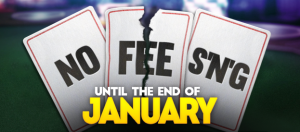 The online poker operator first introduced the No Fee SNG promo during part of November 2014. It was such a hit that it was restored during part of December, and has now been reintroduced for the remainder of January 2015.
As the promotion's name implies, players are able to enter any Sit-n-Go tournament on the menu without paying a fee in addition to the standard buy-in charge. The No Fee SNG promotion lasts from now until the end of the month; Saturday, January 31, 2015.
"We're waiving all FEES on our Sit 'n' Go's for the rest of January," reads the Full Flush Poker webpage. "Sit down at any S 'n' G table and enjoy the added bonus of fee-free tournament play without waiting for a scheduled tournament to shuffle up and deal."
Sit'n'Go tournaments are generally renowned for their expedience, as opposed to multi-table tournaments (MTTs) that run on a specific schedule. Instead of registering ahead of time and waiting hours or even days for an MTT to begin, SNG tournaments kick off the moment the required number of players have registered for the event. Thus single-table SNGs that offer only up to 9 seats tend to harvest the most interest from online poker players.
Full Flush Poker will be giving up a substantial portion of its monthly profits by reinstating the popular No Fee SNG promo, but in the long run, it could still work to the operator's – and the EPN network's – advantage. Because there is no "house" to compete against, like a casino, online poker sites only make money by collecting rake on cash tables and fees for tournaments.
However, while Full Flush Poker won't be generating any profit from its SNGs over the next 17 days, with the anticipation of higher traffic, there will surely be enough side action on the cash tables and MTT schedule to keep the revenue flowing.
The Equity Poker Network has lost four of its online poker operators in the last 6 months alone, and it's had a notable effect on the traffic rating. When Gear Poker left in August 2014, followed out the door in October by Bettor Poker, the impact was nominal. In fact, EPN traffic was on the rise then, jumping from about 170 to 230 average cash game players. However, the ensuing loss of 5dimes in November and, more importantly, the PokerHost departure from EPN in December, took a much heavier toll on the online poker network, leaving them with a current 7-day average of about 190 players according to PokerScout.
The saving grace for EPN is that US players from all states (except Delaware, Nevada and New Jersey, which have their own state-regulated online poker sites) are accepted. Until the remaining 47 states choose to go ahead with online poker regulation, countless Americans will continue to seek out US-facing operators. And with a promotion on the table like No Fee SNGs, Full Flush Poker is sure to garner a notable percentage of that traffic.